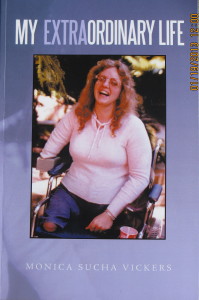 My Extraordinary Life is an inspirational, heartwarming and motivational anthology revealing a challenging journey of my life. I was born missing both legs and one arm, likely the result of thalidomide.
This is the story of my life from birth through childhood, artificial limbs, surgeries, high school, college, employment, dating, marriage, and everything in between. There are discussions on what not to do when you meet a disabled person and how to react when children awkwardly point. I offer some observations on how to get through days that are not so fun. This book will show readers how living with disability is simply a lifestyle—it doesn't make one courageous, brave, or heroic. Disabled people are very good at knowing what they can and cannot do. Knowing these limitations helps one look at the bright side of things and make life meaningful and useful. Readers will learn how to embrace life's trials and pains because, quite simply, there really is no alternative. This book evokes the true meaning of hope and endurance. It also expresses positivity and acceptance.
My Extraordinary Life is a deeply inspirational non-fiction book that is very well written, eloquent and confident, offering a great spiritual adventure. Readers of all ages will surely be delighted and inspired through the expressive and enlightening pages of this book.
Wheel-Life Article 6-27-17 (on-line magazine)
http://www.wheel-life.org/the-extraordinary-life-of-triple-amputee-monica-vickers/
Amplitude Magazine Article, Pages 16-17, Mar/Apr 2017
http://online.publicationprinters.com/launch.aspx?eid=b2ba1ee9-9010-48e8-ae19-9918f6abc572
Disability Horizons Article, May 2016
http://disabilityhorizons.com/2016/05/my-extraordinary-life-an-amputees-story/
Husker Alum Magazine article, Oct/Nov 2015
http://www.huskeralum.org/s/1620/social.aspx?sid=1620&gid=1&pgid=252&cid=2682&ecid=2682&crid=0
Florence Reminder Newspaper, Aug 2015 (Hard to find so article is here).
http://www.pinalcentral.com/trivalley_dispatch/news/an-extraordinary-life/article_8092d2f4-3ae5-11e5-a890-a71c750c0790.html
FLORENCE, AZ: Monica Sucha Vickers' first book, "My Extraordinary Life," is aptly named.
Speaking at a June 12 book-signing promotion at the Florence Community Library, Vickers answered a variety of questions about her life's experiences stemming from being born 60 years ago without legs and only one arm.
Theresa Sucha of Queen Creek, Vickers' sister, addressed the mental and physical toughness Monica had to develop. "We always knew that Monica could hold her own from Day One," Sucha said. "We always used to tease her about her shorter arm — her stub — and I tell you what, if you did something to make her mad, or you didn't do one of the chores like you were supposed to, you couldn't believe how fast she could scoot across that floor, faster than you could run! "She'd get you in a corner, and if she got that arm on one of your legs, you would do anything she said just to get her to stop!"
Vickers self-published "My Extraordinary Life" 2 years ago. At the Los Angeles Times Festival of Books in April 2013, she admitted to being "initially nervous" but wound up enjoying the experience and signed 75 copies of her book in one hour. "It was quite an experience," said Vickers, who resides in the Wild Horse Estates section of Florence's Anthem area with her husband, Mike. "It was a lot of fun and everybody I signed for had easy names! That was my biggest worry, that I would misspell someone's name!" Since then, Vickers has won more than 20 awards for her debut work, the latest ones coming from National Indie Excellence Awards (finalist), and the 2015 Next Generation Indie Book Awards and Readers' Favorite book contest, both of which she won. Vickers has also received 2nd-place awards from the Royal Dragonfly Book Award, Great Northwest and Great Midwest book festivals. All that, and 14 honorable mentions. "I had no idea whatsoever that the book would be received like this. It's doing very well," Vickers said. "It's received a lot of reviews, and we have a website where all the awards I've won are posted. I'm kind of surprised, actually."
Great Feedback
"I didn't think my story was that interesting to anybody. But I've been surprised by the reviews and the awards and contests that I've won. Reviewers have said it should be made into a TV movie. That's all surprising to me because I'm not a very big self-promoter; that's not my forte."
Vickers' husband was on hand to help with the multimedia presentation. Her mother, Agnes Sucha of San Tan Valley, serves as her assistant. "I like doing it, but I don't know how I got the job, though," Agnes said. "I think people really like the book. It's a nice story, and (Monica) is working so hard on promoting it. That's what she needs right now."
"My Extraordinary Life" tells her life's story of dealing with birth defects that she theorizes were "likely the result of thalidomide," a drug developed in Germany and given to pregnant women to alleviate morning sickness but later believed to cause birth defects. Thalidomide was pulled from the market due to pressure from the public and the media.
A 1976 graduate of the University of Nebraska at Lincoln, Vickers worked as a medical records transcriptionist until her retirement in 2014. With only her left arm, she types over 120 words per minute and doesn't let being a congenital triple amputee — or carpel tunnel surgery in 2006 — hold her back from anything she sets out to accomplish. Vickers said there is nothing for her to compare the experience to, since this has always been her reality. The writing process took 2-1/2 years. "I really thought I had an ordinary life, doing what everybody else does. But a lot of people have said that I need to write a book. It took me a few years to figure out what they were talking about," she said.
With a slide presentation running as a backdrop, Vickers took on every question with brutal honesty.
Would She Write Another Book?
"I want this one to take off a little more before I start another one. They're expensive to publish and it requires a lot of marketing. Now that I'm retired, we'll see where that takes us. "Traveling is probably the hardest thing to do right now. Airplanes, hotels, it can really be difficult, so I don't travel very much at all."
Why Doesn't She Use Prosthetic Limbs?
"They're impossible. I haven't worn those since, probably, 1976 when I moved to California. They were uncomfortable, they were hot, they're very heavy, and it was like walking on stilts. They were a pain in the neck for driving. … There are a lot of great artificial limbs being made right now, and if you can afford it, you can have (any limbs) you want. But artificial limbs are not cheap," she continued. "The higher up you need to go with an amputation, the harder it is to wear that stuff. I wouldn't put another pair of them on to save my life."
Asked what the toughest question was she ever had to answer, Vickers said someone once asked her if she ever felt "unbalanced."
"That's a hard question and I've never been asked that before. But I don't feel unbalanced! Actually, most of the questions I've ever been asked are answered in my book."
Vickers said friends have called her "a kid magnet," and she doesn't mind answering their questions. "I love kids. They ask their questions, they're satisfied with the answer, and they move on. Kids always see me the way I see myself." In formulating her thoughts for the book on what she did and didn't want to say, Vickers said, "I decided that for this book to be realistic, I had to be honest, even if there were parts in it that weren't pleasant or some other people may have wished I had couched differently. "But there weren't any really bad things in my life, so that was fairly easy. I interviewed many family members and friends because I knew what it was like for me to grow up, but I had 6 brothers and sisters and I kind of wanted to know what it was like for them, what it was like for classmates, for coworkers, roommates. A lot of different perspectives. That was a very humbling experience."
Insight from Interviews
From her interview sources, Vickers said she learned "how much they admired me, how wonderful they thought I was, how happy I always seemed or how inspirational I was. Especially when it came to people's kids. All of the comments were wonderful. "And there were a couple of comments that were very honest, like from some of my family members, future in-laws. I asked them to be very honest and that I didn't need accolades thrown at me." "I was surprised a little. I didn't realize I was having that much impact on anyone else."
As part of the creative process, Vickers realized she "learned more about what I could offer" when it came to advice on how to approach a disabled person. "I've been pretty content to just live my life and not draw attention to myself," she said. "I know what parents should say to their kids when they're curious about someone with disabilities. I know what those awkward moments are like, and I can help a lot of parents through stuff like that. So I've used the opportunity to put some of that in my book. "People certainly mean well, and over time, that gets annoying and I get tired of hearing it and dealing with it. The only thing that keeps me from being nasty to them is knowing that they're trying to be kind. It's just an awkward moment. It always is," she continued. "But for many disabled people that I know, the worst thing is the perception people have, the stereotype they've put on me, and how wrong that is from the real me. It's almost black-and-white. That is hard to face, every time I meet someone. Vickers also wanted to dispel misconceptions, like not being able to drive a car or maintain a career.
"Sometimes I'll be doing something, and my family even does this, they think something I'm trying might be difficult. It's not difficult for me, and sometimes they'll rush in and help. It's not that I don't want the help, but it would be like you tying your shoes and suddenly people rush over to help you do it."
Originally from the Lincoln and Norfolk area of Nebraska, Vickers spent most of her adult life in California and moved to Arizona when another family member moved here for retirement. Right now, I don't like the heat, I don't like the dirt, I don't like brown, I don't like bugs, but I love being around them (family). It's probably not my paradise on earth to live in."
Positive Attitude
When not working or writing, Vickers enjoys shopping, solving jigsaw puzzles, watching Diamondbacks baseball (though she is a lifelong San Diego Padres fan from her years of living in Southern California) and is learning to deal with the desert heat.
One of the things Vickers wanted to emphasize in her book was the importance of a positive attitude, regardless of one's situation. "Nobody wants to be around somebody who is a grump. Nobody in my world prevented me from doing anything. There were times I needed help and I had a lot of help at school — up and down steps and in the bus — you're not going to get people to want to help you, and certainly not comment the way most of them did at the end, if you're crabby. "I think most disabled people have a decent attitude. For me, when I'm in a mood, my husband is aware, but it's my problem to carry."
In her parting words, Vickers informed those in attendance, "All of you here are now a part of my publicity department," Vickers said. "I enabled all of them!" "Go to go to my Facebook page and 'like' it. That's where it starts."
Reach Florence Reminder & Blade-Tribune Reporter Daniel Dullum at (520) 868-5897 or flonews191@yahoo.com.